MSNBC interviews North American Seventh Day Adventist Secretary about the history of the church.
The North American Division Secretary G. Alexander Bryant was interviewed by MTP Daily from MSNBC who wanted to find out more about Ben Carson's faith in response to Donald Trumps comments about the Seventh Day Adventist Church.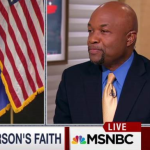 The interview which discussed the brief history of the church, the foundational belief in Jesus Christ and His life, death, and resurrection, and the Sabbath aired on MSNBC Live 10-27-2015.
Link to video: http://on.msnbc.com/1KDIoNT
(Visited 295 times, 1 visits today)